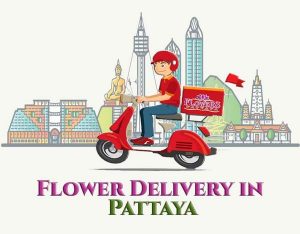 Flowers-Pattaya is a local flower shop, so we can offer you a number of benefits. First of all, this is free express delivery of bouquets, flower boxes and additional gifts to all areas of the city. Same day flower delivery in Pattaya is available for 95% of the bouquets that you see on the store pages. For the convenience of our customers from other time zones, we have reduced the processing time for orders. Therefore, now you can order and pay for bouquets with delivery on the same day until 2 pm. And we can deliver some bouquets of popular flowers even after paying for the order until 5 pm (after consulting with the manager and confirmation of this possibility).
How quickly we deliver flowers in Pattaya
Depending on the specific address, same day flower delivery in Pattaya is available approximately 2 hours after placing the order. Our florists do not store ready-made bouquets for quick sale and each bouquet is made for a specific order. After confirming the payment, information about the order is promptly received by our florist. The florist creates a magnificent bouquet from the best and freshest flowers, manually signs a greeting card and sends the order to our delivery service. Order processing may take longer when you checkout at night in Thailand. Please be aware of the possible time difference between your country and the Kingdom of Thailand (local time GMT + 7).
Our flower shop is located in Central Pattaya and in some cases delivery is possible even within 1 hour. At the same time, there are reasons beyond our control why delivery may be delayed. In 90% of cases, we use motorcycles for flower delivery, which have the ability to move quickly even with active road traffic. At the same time, Pattaya is located in a tropical climate and during heavy rainfall, driving on a motorbike can be dangerous, which delays flower delivery. We deliver large bouquets and gifts by car, which in the morning and evening hours is not able to move quickly due to traffic congestion in some areas of Pattaya. Floods that occur several times a year in Pattaya can also be a reason for delayed delivery of an order.
Information for flower delivery in Pattaya
Delivery of such a delicate category of goods as flowers in Pattaya requires correct and complete information about the location of the recipient at the time of delivery and his contacts. Therefore, during the checkout process, we ask you to provide the full address for flower delivery in Pattaya, the name and valid phone number of the recipient. During the flower delivery process, our courier may be restricted in access to the territory of individual condominiums, hotels, hospitals or other facilities. At such moments, our courier must contact the recipient of the order and inform about the delivery. Unfortunately, we cannot guarantee on-time delivery of flowers if you provide us with incorrect or incomplete delivery information.
Flower delivery hours
Flower delivery in Pattaya is carried out by our store daily from 8 am to 8 pm. In some cases, after prior confirmation, we are ready to deliver flowers at a later time (until 10 pm). Standard delivery of flowers on the day of order is possible after payment for the order until 2 pm. In other cases, delivery will be made on the next day or on the day that you specify when placing an order. During the checkout process, you can specify not only the date of flower delivery Pattaya, but also the preferred delivery time (morning, afternoon, evening or time interval).
We recommend ordering flower delivery in Pattaya in advance before popular international and Thai holidays (Christmas, New Year, Mother's Day, Songkran). Due to the large number of orders on Valentine's Day, we cannot guarantee delivery on the same day, and receiving orders on that day may be limited. We start accepting pre-orders with flower delivery in Pattaya on February 14 already 60 days before this holiday. Early order not only guarantees timely delivery, but also allows you to save money (the cost of flowers in February increases by 1.5-2 times).
If, for any reason, you are having difficulty entering your shipping address (or postal code), please contact our support team: support@flowers-pattaya.com