Many men ask the question: "What gifts for a Thai girlfriend or wife to buy for a birthday, anniversary, dating anniversary, or just to show your love?" It's no secret that all women in the world love to receive gifts. Thai women and girls are no exception. Moreover, a gift for a Thai woman is not just a beautiful gesture and a reason for her joy. Unlike Western culture, where love and money are not connected in any way, in Thai culture, gifts and money are expressions of care. And the degree of love in Thailand is determined precisely by the level of your care and gratitude. Sometimes this is difficult for a Westerner to understand, but if you accept it, your relationship will be long and harmonious.
Our flower shop in Pattaya will help you choose a simple and affordable gift that will delight your Thai woman. Some of the most popular gifts for Thai women will be listed below. Due to the large number of long distance relationships with Thai women, we have included options in our list that you can order online even if you are not in Thailand. You can find some of these gifts for Thai women in our flower delivery Pattaya service (there are links in the article).
1. Flowers for Thai women in Pattaya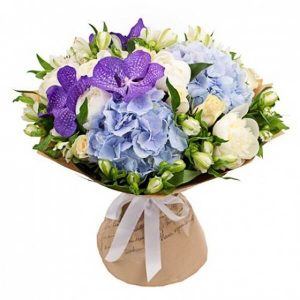 Flowers are probably the most versatile gift for women around the world. Thai women love to receive bouquets of flowers or flower baskets. The Kingdom of Thailand has had a special cult of fresh flowers for centuries. About 90% of all fresh flowers are used daily in Thailand for religious purposes. And the rest of the flowers – usually the best ones – are used to create gorgeous floral gifts. At the same time, a bouquet of flowers, a flower box or a flower basket will be a welcome gift not only for Thai women of any age, but also for men. A bouquet of flowers as a gift is appropriate in Thailand not only for a loved one, but also for parents, doctors, teachers, friends, colleagues and business partners.
This is why we have put flowers at the top of our list of gifts for Thai women. At the same time, not all flower bouquets are universal and can be accepted with equal gratitude. So that you can choose the right bouquet of flowers, taking into account the peculiarities of local culture and customs, we try to add a detailed description to each bouquet in our store. Some flowers are good as a birthday or anniversary gift. And it is better to send other flowers exclusively to friends or as a wish of a speedy recovery for a sick person.
To search for a suitable bouquet was faster, you can use the navigation and select the occasion you need in the main menu of the website. Another local feature is the size of the bouquets. In Thailand, it is not customary to give miniature bouquets of a small number of flowers (for example, one or three roses). Even in bouquets of 7 or 10 fresh roses with large buds, our florists usually add seasonal green filler (decorative green leaves, white gypsophila, etc. All flowers and additional greenery should be decorated in a beautiful and voluminous bouquet in a beautiful wrapper.
Having received such a gift, your Thai woman will be able to take many beautiful photos for social networks and show the care of the person who made such a gift. After all, public display of gratitude is another long-standing Thai tradition. The cost of bouquets in the Flowers-Pattaya store starts from 990 THB ($ 30). Moreover, the price of all our bouquets of flowers already includes delivery to the recipient in Pattaya and a greeting card with your message. You can find all our bouquets of flowers on the Flowers page. And in the detailed description of each bouquet, you will find our recommendations for using the bouquet for certain occasions or expressing various feelings and wishes.
2. Fruit gifts for Thai women in Pattaya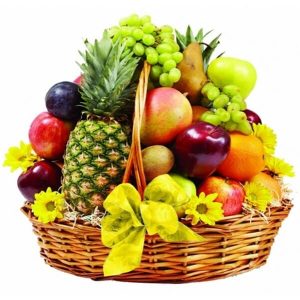 You can delight your loved one in Pattaya with a basket of fresh tropical fruits. This is a very original gift that will be a pleasant surprise for your Thai woman, friend or relative who is in Pattaya. We can use both local and imported fruits and berries to create fruit baskets. Juicy yellow mangoes, large and small pineapples, sweet local bananas, seasonal aromatic lychees, bunches of longan or grapes, fresh ripe strawberries, imported apples and pears, and many other exotic fruits and berries.
Typically, each fruit basket includes at least 3 types of fresh fruit. But since Thailand is located in the tropics, fruit baskets can be quite varied. The size of a fruit basket as a gift for a Thai woman can also vary. Sometimes a small fruit basket is enough for a woman living alone. And if she lives with friends or family, then it is better to choose a large basket of fruits and let your beloved woman share your gift, which will add respect to both of you.
Fruit baskets as a gift are not just a collection of popular or favorite fruits. Our florists can add sweets to the basket and decorate it with flowers. The popular Ferrero Rocher chocolate can be used as a sweet gift, which you can also order as an addition to a bouquet or a basket of flowers. For a number of reasons, we do not add the famous durian to fruit baskets. It is a very specific fruit and is very popular with Thai women, but storage of this fruit requires special conditions, and its delivery may be limited to many condominiums, apartments and offices.
The cost of fruit baskets in the Flowers-Pattaya store starts at 1000 baht (including shipping). At the same time, we need 1-2 days to buy all the necessary fruits and decorate the gift basket. For all questions related to individual ordering of fruit baskets, please contact our support team (contact us on the Contact page).
3. Chocolate and sweets as a gift to a thai women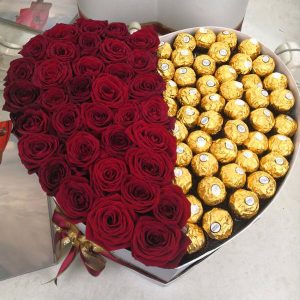 The people of the Kingdom of Thailand have come to love chocolate and chocolates only in this century. Before that, Thais were very indifferent to chocolate products and did not understand the Europeans' love for this dessert. But these days, manufacturers and sellers of chocolate are seeing a very large annual growth in the popularity of this product. Since Thailand does not have its own producers of real high-quality chocolate, well-known world brands are very popular in the Kingdom. If we are talking about chocolate as a gift for Thai women, then a good choice would be the packaging of premium chocolates Ferrero Rocher, Tobleron or Rafaello.
These products are not only very tasty, but also have a very presentable appearance. In our flower shop you can order chocolate as a complement to flowers. To make your gift look more harmonious, our florist will arrange the packaging of sweets in the same style as the bouquet of flowers. The advantage of such a delicious addition to flowers is that your Thai woman can not only feast on delicious chocolate, but also treat her friends or relatives. Ultimately, this will allow you and your girlfriend to gain respect (for Thais, this is actually important).
4. Teddy bears as a gift for a Thai girlfriend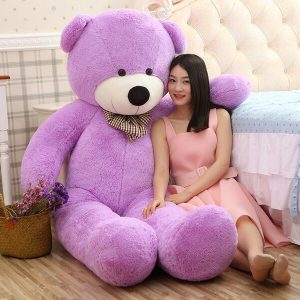 Men from Europe, North America or Australia are very surprised when they find out about the universal love of Thai girls and women for large soft toys. It doesn't matter how old your Thai woman is – 20, 30 or 40. At any age, a Thai woman is happy to receive a large teddy bear or other large soft toy as a present. And if you know that your Thai friend already has a big teddy bear, this is not a reason to refuse to buy another one. You just have to choose a different size or a different color of the teddy bear.
Thai women really love teddy bears and many of them boast a large collection of teddy bears. Girls place teddy bears on a bed or sofa during the day, and at night they can sleep with such toys. And of course, such a gift will remind the girl for a very long time about the person who made this gift. In our flower shop you can order teddy bears in Pattaya in different colors from 100 cm (39 inches) and up at a price of 1100 baht ($ 34) with free shipping.
5. Gold jewelry is one of the best gifts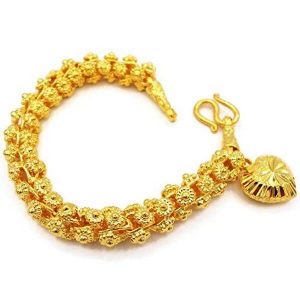 If you have a serious relationship with a Thai woman, sooner or later you will have to give her gold jewelry. Of course, if you want to make your girlfriend happy and convince her that your intentions for her are the most serious. In addition to the ring, which can be an engagement gift, gold chains, pendants and bracelets are very popular. Gold jewelry is an expensive gift, and it is not the best option to order it online without your girlfriend's knowledge. It is better to let the Thai woman choose the gift herself, then the joy of receiving it will be truly sincere.
Bringing gifts of gold from other countries to Thailand is not a good idea. In Thailand, yellow gold is popular, which has a minimum of impurities of other metals. The cost of gold is not very high, but you should know that miniature bracelets or thin chains are not popular in Thailand. A thin gold ring can be purchased for $ 100 (3200 THB). But Thai women prefer massive gold jewelry, which starts at THB 10,000 ($ 330). For example, a gold bracelet for 15,000-18,000 THB ($ 460- $ 560). Therefore, the choice of gold jewelry as a gift for a Thai woman is appropriate in cases where a man is absolutely confident in his feelings and expects a long-term relationship.
6. Perfume as a gift for a thai girl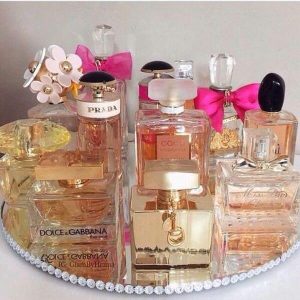 Thailand has a well-developed local cosmetics and perfumery market. But no Thai woman minds using eau de toilette from world famous perfume houses. Imported perfumes are not cheap in Thailand, and not every woman is ready to buy such a perfume for her money. Despite the many offers on the Internet, buying eau de toilette with delivery in Thailand is not the best option. Even an expensive perfume can turn out to be a bad fake, which only slightly resembles the original in smell and is not at all persistent. And among inexpensive offers, the chance of getting a fake is 99%.
Unlike other types of gifts, you can bring perfume from your country or buy it in one of the Duty Free shops. It is advisable to know which perfume your Thai woman likes so that the gift is pleasant for her. If you don't know your girlfriend's favorite perfume, it's better not to rely on your intuition and advice from sellers. In this case, it makes sense to directly ask your woman what brand and scent she would like to receive. Of course, this approach to choosing a gift deprives your girlfriend of a surprise. But this is better than getting a perfume with a scent as a gift that your girlfriend does not like and will not using.
7. Money and your concern as a gift for a Thai woman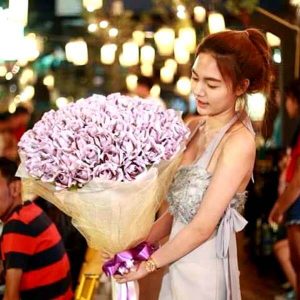 Money is perhaps the most versatile gift in all countries of the world. Even people with good income will never give up more money. Your Thai woman will also be happy to receive some amount of money as a gift, especially during this difficult time. If you think that money as a gift can somehow offend your Thai girlfriend, then you are very mistaken. Any monetary gift will be accepted with great joy and gratitude. It may be a little difficult to understand for men from the Western world, but according to local tradition, it is caring for a girl that shows how much you love her. And money and care for Thai girls are almost synonymous.
If for some reason you don't want to just donate money to a Thai woman, you can show her your concern in a different way. For example, you can pay for her apartment for a month, make a payment for a motorbike or car borrowed, pay a medical bill, etc. Depending on the amount, this can be either a main gift or an additional manifestation of care along with a gift of flowers, fruits or sweets.
As you may have noticed, Thai women prefer almost the same gifts as women in other countries of the world. And you have learned some local peculiarities, which at first glance may seem a little strange, from this article. We hope that now the choice of a gift for a Thai woman will be easier and more understandable for you. And if you still have any questions, our support service is always ready to advise you on the gifts that you can order for your Thai girlfriend in our shop Flowers-Pattaya.