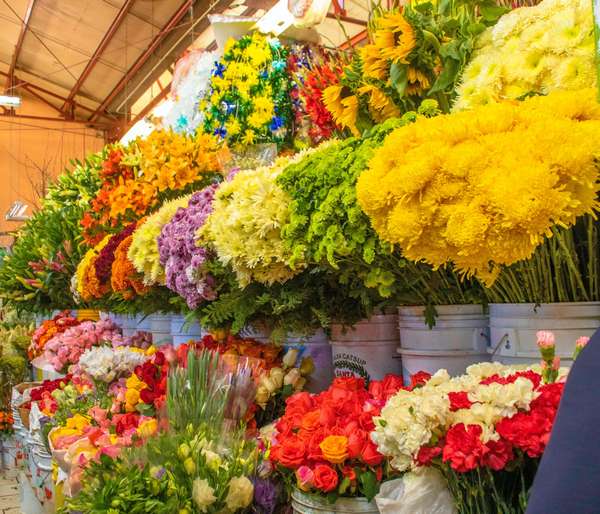 Our flower shop in Pattaya offers a large selection of large and small flower bouquets, flower baskets and bouquets in ceramic vases. Flowers are a universal gift in any country and at any time of the year. This is the most popular way to express your feelings or congratulate the special people in your life. Despite the existing opportunity to buy a bouquet in a street flower shop, online flower shops are becoming increasingly popular. Therefore, since 2021, our flower shop in Pattaya has added such an opportunity for our regular and new customers. This new service quickly became popular, because online ordering flowers has a number of significant advantages.
Benefit #1. Order flowers from anywhere in the world
You can order a bouquet at any time of the day, even if you live in another country and in a different time zone. Online ordering is available around the clock and seven days a week, and it's actually very convenient. About half of our clients are foreigners who have not lived in Thailand for a long time, but have business connections, as well as family or romantic relationships with people who live in Pattaya. Our flower shop in this situation helps to congratulate your colleagues, relatives and loved ones who live or are on vacation in this Thai resort. Our professional florists will quickly compose a beautiful bouquet, write your message on a greeting card and deliver a flower gift to the right address.
Benefit #2. Time saving
Pattaya is not a huge metropolis, but the territory of this city is very extensive. The coastline, along which the city blocks are located, stretches for more than 20 kilometers. Therefore, an independent visit to a flower shop and the subsequent delivery of a bouquet to the recipient takes a lot of time. Moreover, the traffic situation due to dense urban traffic and large-scale road works can be very difficult. In such conditions, even customers from Pattaya often prefer not to waste their time going to a flower shop in Pattaya, but to choose a bouquet online and order it to be delivered to the right address at the right time.
Benefit #3. Large selection of bouquets
When visiting street flower shops, you may see only a few ready-made bouquets that you can buy. And even more often you can only see flowers in the window, from which the florist makes bouquets. This is a good option if you want to order a simple bouquet of one type of flower (for example, 12 red roses). And even in this case, you cannot know in advance what the finished bouquet will look like. If you visit our flower shop in Pattaya online, you will see dozens of bright and very diverse bouquets. We offer our customers not only simple bouquets of roses, lilies, gerberas, chrysanthemums, etc., but many bouquets of mixed flowers. And you can always know in advance how your flower gift will look like (our florists always try to achieve the maximum similarity of the finished bouquet with its photo in the catalog).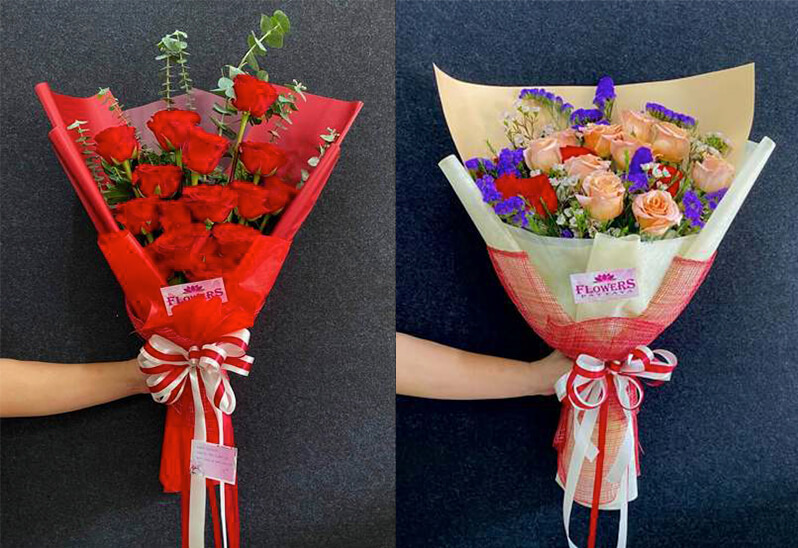 Benefit #4. Detailed description of the bouquet
Each bouquet in our flower shop has a detailed description. At the same time, you can find out not only the composition of the bouquet (what flowers will be used, their parameters, what is included in the price), but also our advice regarding the recipient. You can find out for what occasions this or that bouquet is suitable, which bouquet is more suitable for your girlfriend, and which bouquet is better to give to a colleague or boss. For most bouquets, same day flower delivery in Pattaya is available, but for some rare flowers this service may not be available, and we also place such information in the detailed description of the bouquets.
Benefit #5 Free flower delivery in Pattaya
As already mentioned above, the territory of Pattaya is very extensive. But for the convenience of our customers, we guarantee free delivery of any bouquet anywhere in Pattaya. Therefore, it does not matter where the recipient of your flower gift lives or works: in Naklua or Jomtien, in Central or South Pattaya, in the Pratumnak hill area or even in East Patatya (behind the Sukhkumvit highway). You can be sure that our prices in the flower catalog are final and include shipping. The main thing is that you know the exact flower delivery address in Pattaya and the correct phone number of the recipient of the bouquet.
Benefit #6. Keeping flowers fresh
Pattaya is located in the tropics and it is a very hot place. Therefore, maintaining the freshness of the bouquet until the moment of delivery and placing the bouquet in a vase with water is a special task. Our experienced florists use a special technology for packing fresh flowers and a number of auxiliary materials so that your flower gift retains its beautiful appearance during the delivery process and pleases the recipient for a long time. We use only fresh flowers, which we store in the store in a special microclimate. And we make bouquets for each customer just before delivery (during the ordering process, you can specify the desired delivery time). And if you are not sure that the recipient of the bouquet will be at the delivery address at the right time, you can order a flower basket or a bouquet in a ceramic vase. Flowers in a special water oasis or in a vase with water are even more protected from the Thai heat and will delight the recipient even longer.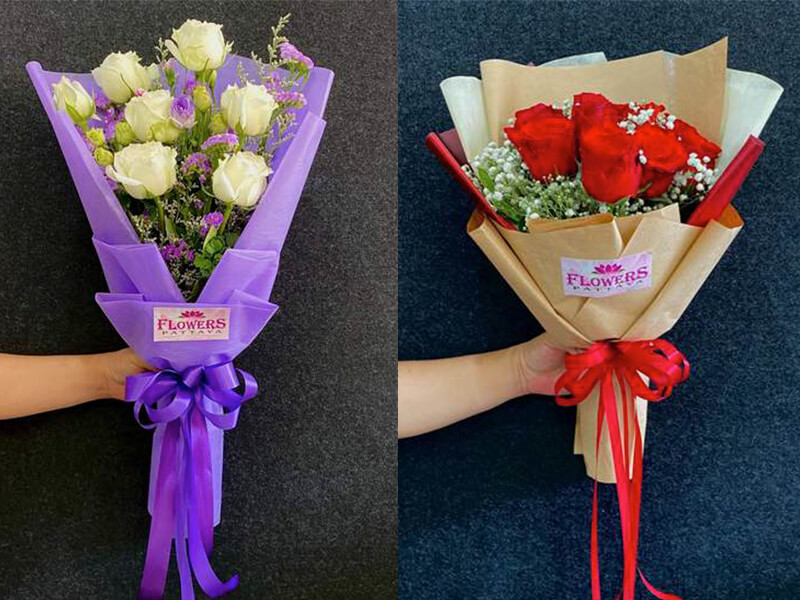 Benefit #7. Maintaining anonymity
In some cases, our clients want to make a surprise for a loved one and ask us not to inform about the delivery of the bouquet in advance. And in some situations, our customers can even give a bouquet anonymously. Our store takes data privacy very seriously and we have no problem complying with such a requests. Moreover, our couriers in 99% do not even know the name of the customer of the bouquet and cannot give such information to the recipient.
Benefit #8. Delivery confirmation
After each successful delivery, we send an email to customers with information about the completion of the delivery. In addition, we take a photo of the finished bouquet before delivery and a photo of the recipient with the bouquet (sometimes it may not be the recipient, but an employee of a residential complex, a hotel employee, a maid, etc.). We do not send such photos to every customer by default, but we are ready to provide such photo evidence for freу upon your request. Just write to us about it in email or in WhatsApp or write such a request in the order notes.
Benefit #9. Prices and loyalty program
We value each of our customers and we try to ensure your loyalty not only with the high quality of bouquets and service, but also with our pricing policy. You can compare our prices with other flower shops in Pattaya and make sure that in most cases our prices will be the lowest (especially since we use premium flowers and there are no additional delivery charges). In addition, our flower shop in Pattaya offers discount coupons after the first successful delivery. And during each of your new orders, you can save from 7% of the cost.
Benefit #10. Quality assurance
Our flower shop in Pattaya is listed in Best Florist Review professional authoritative directory, featuring only the best florists from around the world.
Therefore, our Pattaya flower shop is a good choice for all occasions when you want to deliver flowers in Pattaya. We will be glad to see you among our customers and invite you to see for yourself the advantages of our store.